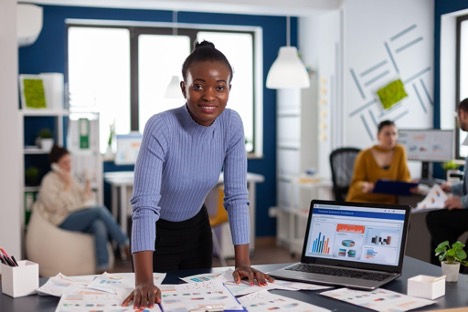 Find out everything you need to know about studying for an MBA in Marketing, including the benefits, scope, skills you will learn, the best MBA program that fits your budget, top marketing job, career paths, and also salary prospects.
What is an MBA in Marketing?
The MBA in Marketing is an ideal choice for professionals who wish to pursue a career in marketing or other related career paths. An MBA curriculum is usually focused on general business management. When a marketing specialization is added to the degree, it becomes more marketing-able for the holder.
American InterContinental University has many specializations added to their MBA programs and marketing happens to be one of them. Although not all business schools offer specialized MBA degree programs, most go for the generic Executive MBA that focuses on general management and leadership learning, as well as other technical aspects of business studies in their curriculum.
What is the best MBA in Marketing program that fits my budget?
The best MBA in Marketing that can fit your budget is offered by American InterContinental University AIU, an HLC regionally accredited University in the US with both on-campus and online learning options. The Business School programs are also ACBSP-accredited.
Ranked number seven in University HQ Top 55 Business Management colleges in the US list. With the AIU MBA program in marketing, you will be exposed to learning outcomes such as a comprehensive look at the different business facets that shape marketing and how marketing shapes business strategy, operations, and even finance. The MBA in marketing program from AIU combines quantitative and qualitative research analysis, advanced economic concepts, and strategic communication. Your study will expand your understanding of marketing and business administration, and how to leverage industry tools to solve problems and develop opportunities.
AIU currently offers up to a 90% tuition discount to non-US citizens exclusively through Destiny Education's partnership, this means you only get to pay up to 10% of the entire tuition. This makes it possible to fix your budget around your tuition fee.
AIU's MBA in marketing degree program was designed to help you hone your critical thinking and decision-making capabilities, as well as develop leadership skills. The MBA in marketing courses are taught by professionals that can impart real-world lessons and applications, which makes for a brilliant and impactful learning experience.
The American InterContinental University offers 9 MBA specializations, which can be accessed on both online and on-campus learning platforms.
How do I enroll in the MBA Marketing program?
To enroll in AIU's online MBA in marketing, no GMAT, TOEFL, GRE, or IELTS (for foreign students in English-speaking countries) are required. However, you must already hold a baccalaureate degree in any subject.
AIU's online marketing MBA degree program has mobile accessibility which enables flexible access to fit a busy schedule. You can pursue your MBA in marketing online at your convenience while tending to other responsibilities, such as your family and job.

AIU offers personalized support at every step of your education journey with a dedicated Graduation Team to help manage enrollment and attendance, and to help you pursue your education and career goals.

What can I learn in the MBA Marketing program?
In the specialized curriculum, students can gain knowledge and industry insights that develop and enhance understanding of how marketing plays a critical role in determining the future of products, promotions and demographics approached, along with recommendations for product changes and target audiences.
Classes for an MBA in Marketing degree from American InterContinental University include:
● Strategic Marketing
● Research Method in Marketing
● Global Financial Management
● Product and Brand Management
● Managerial Approach to Marketing
● Strategic Management
● International Marketing
● Business Research for Decision Making

What are the top MBA Marketing jobs and their salaries?
Testimonials from students who have graduated with an MBA Marketing degree suggest that there is no doubt that MBA marketing provides promising career opportunities. It is one of the most popular professional degrees that develop business and leadership skills.
An MBA in Marketing can open up a broad array of career opportunities in diverse industries. Graduates go into roles such as:
● Business Development Manager
● Marketing Manager
● Customer Relationship Manager
● Advertising Manager
● Market Research Manager
● Brand Manager
● Chief Marketing Officer
What are the top MBA Marketing jobs and their salaries?
Above all, remember that if you don't know where to start your research or you need help finding information, simply ask a librarian. They can help guide you to the resources you need.
Salary Outlook for MBA Marketing Graduate
Ultimately, your salary is determined based on several criteria, including your personal experience, the specific role, the location and size of your company, and the industry.
According to a Payscale report, the average base salary in the US for a professional with an MBA in Marketing (also referred to as a Marketing and Management Degree) is $103,000 per year.
The compensation range for a Marketing Director is $74k-$174k/year, the range for a Senior Marketing Manager is $84k-$145k/year, and the range for a Marketing Manager is $54k-$119k/year.
MBA in Marketing is an in-demand degree and Marketing MBAs are qualified to earn very competitive salaries upon graduation.
Conclusion
Marketing is a diverse field with lots of diverse roles that you can fill with a Marketing MBA. As businesses expand there is a demand for marketing professionals. Marketers are strategic thinkers who have equally excellent communication and analysis skills, and are needed to make sense of the entire process of a customer's journey as it relates to the brand and product.
With the information above, you are now informed of what you need to know about the MBA Marketing specialization at American InterContinental University.
With the AIU curriculum, you can fast-track your learning and finish in under 12 months. AIU has start dates every 5 weeks with terms that are 10 weeks, which means you can enroll now and begin classes in the next 5 weeks.
Destiny Education is a partner of the American InterContinental University system
GIVE YOUR CAREER A LIFT!
An increasingly competitive job market means you will need a degree to set you apart. Stand out with a globally recognized, career-focused degree from our partner American universities.
No IELTS, TOEFL, GMAT, or GRE requirements.
You will receive a 90% tuition discount paying only 10% of the total tuition fee, once you apply!
Accredited world-class Bachelor's, Master's, and Doctorate degrees

100% Online

Flexible payment options

Complete your degree at your pace

Up to a 90% tuition discount

Receive career support
Stay ahead with career-focused higher education!
Contact an Advisor to learn more about our offer.