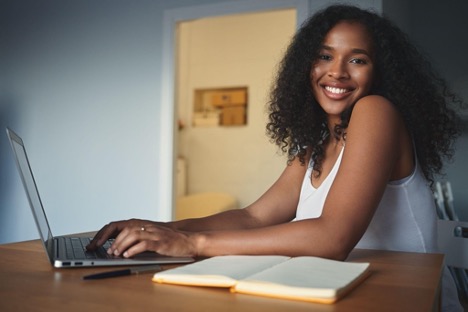 Online education has opened new pathways to college for working adults. The flexibility and availability of online colleges and universities have resulted in more opportunities for adults to pursue higher education, either to complete a degree in progress or begin a new program of study.
Adding online coursework to an already busy schedule of work and family life can be challenging, but many people have found it possible with solid planning and determination. If you're contemplating college but have concerns about successfully blending academics, family life and career, careful planning will smooth your transition and set you up for success. Identifying the skills and tools you'll need to manage the different areas of your life in advance can help you launch yourself into a successful college experience. Here are some tips for adults returning to college.
Research Your Financial Options
Scholarships for higher education for adults are readily available; the challenge is finding them. American InterContinental University and Trident International University offer up to a 90% automatic tuition discount to applicants through Destiny Education. There are also several resources online available to you to get information about other 'scholarship and grant opportunities' that are available for you to take advantage of.
Evaluate Your Time Management Skills
Take a careful look at your current schedule and ask yourself how well you are using the time you currently have. If you're already rushing to accomplish important daily tasks, improving your ability to manage time before you return to school is a good idea. Adding several hours of courses and studying to your schedule will require you to re-prioritize, and possibly cut back on some activities and hobbies during the term. Using your time effectively is a skill that can be learned.
Destiny Education offers an on demand webinar on Time Management. Contact us to get access to the webinar.
Enlist Your Employer
The idea of maintaining a full-time job while being a full-time student might feel overwhelming, but it offers some benefits as well. Often, adult students are hesitant to share their academic goals with their supervisors and colleagues, fearing it will make them look less committed to their job.
On the contrary, it's a good idea to share your plans. Even though online education is more flexible than traditional brick-and-mortar, you still may need to make some modifications to your work schedule.
Also, it's possible your employer offers tuition assistance, which is worth looking into.
Create a study space. We live in a world where we can work and study anywhere, thanks to portable technology and increased access to the internet. However, just because you can study anywhere, it doesn't mean you should. If you're managing a hectic schedule full of family, career, and academic responsibilities, you may feel the only way to succeed is to study on the fly. But you can create a more stable and controlled environment if you choose a specific space in your home for studying. Try to create a space for yourself that is quiet and well-organized with the needed materials. Even if you're only able to carve out a small corner for yourself, designating a spot may help you focus.

Ease Your Way In
Though attending school full-time can enable you to complete your degree program quicker, you may want to begin by attending part-time. If you've been away from school for an extended period, taking a smaller course load may be a good way to begin. This approach allows you to make the change slowly and can help identify any gaps in your education strategy. As you become acclimated to the life of a student, you can increase your academic load as needed.
Adults returning to college will have greater success with advanced preparation and thoughtful planning. Advancing your education can have a long-term impact on your career success because you will expand your knowledge and skills and open new possibilities for yourself.
The above ideas can help facilitate the transition to college for working adults and ease the adjustment to this important step forward.
This article was written by American InterContinental University (AIU).
Destiny Education is a partner of the American InterContinental University system
GIVE YOUR CAREER A LIFT!
An increasingly competitive job market means you will need a degree to set you apart. Stand out with a globally recognized, career-focused degree from our partner American universities.
No IELTS, TOEFL, GMAT, or GRE requirements. You will receive a 90% tuition discount paying only 10% of the total tuition fee, once you apply!
Accredited world-class Bachelor's, Master's, and Doctorate degrees

100% Online

Flexible payment options

Complete your degree at your pace

Up to a 90% tuition discount

Receive career support
Stay ahead with career-focused higher education!
Contact an Advisor to learn more about the offer.